Tis' the Season at MONAT! The Holiday Season is filled with Cozy Warm Wishes this year just for you!  Hurry, our unique, exclusive holiday gift sets are only available while supplies last, and are sure to have a little something for everybody on your list! Get yours NOW!
In order to get any of these holiday sets you do have to be either a Market Partner or a Vip customer.  Please refer to my other post that tells you how to be a partner or a vip.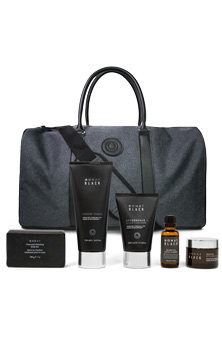 Weekends In Style
Quick and effortless grooming is a must for the holidays. Get ready to look good from head to toe all season long with 5 men's essentials conveniently packed in our exclusive Monat Men's Weekender Bag. Grab a bag, and cheers to good hair, and good times in style.
Cream Shave, 6 oz 
A rich and soothing cream shave that leaves skin smooth, sleek and revitalized. Provides a close, comfortable shave.
After-Shave + Moisturizer, 3.4 fl oz
Helps soothe skin, minimize ingrown hairs and provide excellent skin hydration. Calms the burning sensation experienced after shaving.
Groom Styling Clay, 1.7 fl oz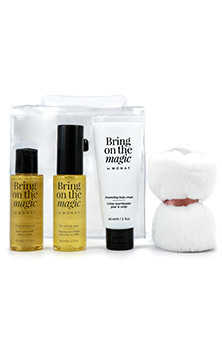 Bring on the Magic Holiday Collection
An enchanting set of three almond-enriched body treats for hydrated and delicately scented skin.
Plus, a micro-fiber shower mitt to help evenly distribute the Cleansing Body Oil and make cleansing soft and pampering.
Cleansing Body Oil

This luxurious, almond oil enriched body cleanser transforms from an oil to a light cream, leaving skin feeling satiny-soft, clean and cared for.

Nourishing Body Cream

Nourish, soften and delicately scent the skin with this lightweight, moisturizing body cream.

Dry Oil Body Spray

This moisturizing and lightly scented oil spray dries down to a velvety smooth finish, for an alluring glow on the skin.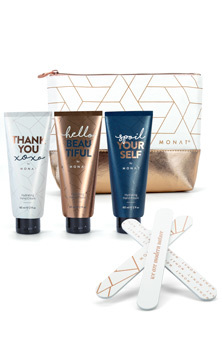 Happy Hands Holiday Collection
Sku

#600000059
Use these three delightful HYDRATING hand creams to moisturize and keep your hands happy over the cold winter months. Great for elbows too!  With scents like Lait De Coco, Gardenia and Matcha, plus a set of 3 nail files all placed neatly in a white and rose gold cosmetic bag, this could only be a MONAT Exclusive!
Thank you XO XO
Hello Beautiful
Spoil Yourself
Please Note: Holiday orders will start shipping week of 9/24
Purr-Fectly Fab Masque Trio
This set will leave you with luxurious, healthy -looking, soft, hydrated hair. Packed in a kitty clutch and paired with a generous terry-lined shower cap, you're well on your way to holiday hair envy. This holiday exclusive makes the purr-fect holiday gift.
Charcoal Gelee Masque

This modern gel-cream purifying hair masque deep cleanses and gently conditions, leaving your scalp and hair refreshed and clean.

Heavenly Hydrating Masque

Deliver an immediate surge of hydration to your hair, from root to tip,  with this ultra hydrating lightweight gel cream.

Super Moisture Masque

Nourish, moisturize, replenish, and restore hair with this ultra-rich masque, for healthy-looking, manageable, luxurious hair.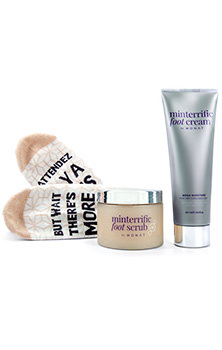 Minterrific Cozy Feet
Capturing the whimsical style of our President – Stuart MacMillan, this set gives tootsies a break this holiday season.
The Minterrific Foot Sugar Scrub and Minterrific Foot Cream are great for exfoliating and moisturizing.
And, they smell great too!
After, tuck your feet inside a cozy pair of Stuart's Holiday Socks… that have a surprise special message on their soles!
" …but wait …there's more!"
Please Note: Holiday orders will start shipping week of 9/24
Great Hair Everywhere: DELUXE TRAVEL SET
The fundamentals of gorgeous, manageable, healthy -looking tresses conveniently packed in our Holiday exclusive MONAT Toiletry Bag.
Grab these 6 travel- size, travel-friendly hair essentials and always be ready to go any time, any place, anywhere. The perfect gift this year is making "travel hair" look great.
Renew Shampoo – 2 fl. oz.
Intense Repair Shampoo – 2 fl. oz.
Intense Repair Conditioner – 2 fl. oz.
Monat Black Shampoo + Conditioner – 2 fl. oz.
The Champ Conditioning Dry Shampoo – 2 fl. oz.
Replenish Masque – 2 fl. oz.
OIL DROP LOGO HAIR CLIP SET
Sku

#600000066
Pinned up, braided, or let down, our delicate, matte silver and rose gold oil drop hair accessories are the perfect finishing touches to your holiday hairstyle. Be ready to steal the spotlight this holiday season, with our Limited Edition hair clips. Oh-so-chic,we can't even count the many ways that you're going to style your tresses!
Includes:
1 Matte Silver Oil Drop Clip
1 Matte Rose Gold Oil Drop Clip
Holiday orders will start shipping week of 9/2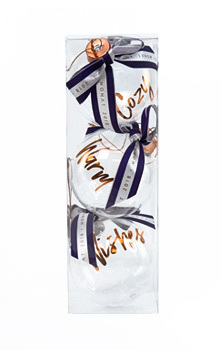 COZY WARM WISHES ORNAMENTS | 2018 LIMITED EDITION
This holiday season cozy up and share this durable Limited Edition ornament set. Whether you're decorating your tree or in search of the perfect centerpiece, our Cozy Warm Wishes Ornaments trio is this season's must-have! They'll add the right touch of elegance, and the custom MONAT ribbon makes this item the ideal collectible for you and your friends this year.
Holiday orders will start shipping week of 9/24
SNOOZE READY SLEEPY MASK
We wish you sweet dreams and endless beauty sleep.
Sometimes, with all of the fun and excitement of the holidays, you may need to take a quiet, tranquil moment to catch much needed zzzz's.
Our Limited Edition rose gold soft velour custom embroidered eye mask blocks out interruptions, allowing you to drift off and wake up refreshed and restored.
Please Note: Holiday orders will start shipping week of 9/24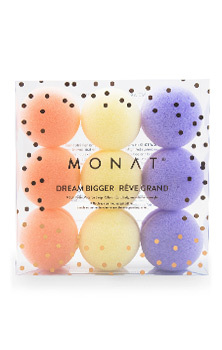 DREAM BIGGER MACARON SLEEP-IN ROLLERS
Bigger dreams, bigger curls and more luscious volume get your hair holiday- ready. These pastel-coloured macaroon-looking soft, comfy sleep-in sponge rollers will be everyone's fave.  Ready to help steal the spotlight, not your sleep? Our holiday exclusive stocking stuffer is the epitome of sweet dreams! You'll want to use them again and again.
9 Soft Sponge Sleep Rollers, 1 Pack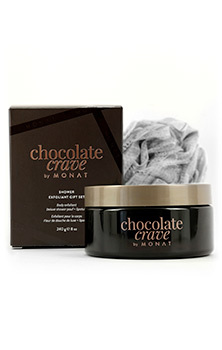 Chocolate Crave Body Exfoliant
It's what you CRAVE – A luxurious, antioxidant-rich, nourishing shower exfoliant that offers a delicious way to pamper, soften and tone your body.
MONAT Chocolate Crave Body Exfoliant is infused with naturally gentle, indulgent ingredients that have been selected specifically for your pleasure, beauty and well-being.
·        Natural Crushed Cocoa and Coconut Shells gently buff away impurities and polish away dulling surface dryness, leaving your skin looking better toned, healthier and glowing.
·        Cocoa Butter, rich in anti-oxidants and emollient properties, helps promote softness and suppleness for a luscious, irresistible you.
·        Cocoa Extract comforts and soothes as it imparts its tantalizing, soft aroma.
·        Coconut Oil, with its nourishing moisture, leaves your skin feeling silky smooth.
As an added bonus to you we have this awesome kit.

Get The New Restructuring Hair Care Collection from MONAT.
A NEW ERA IN HEALTHY HAIR CARE FEATURING KEY INGREDIENTS, REJUVENIQE S™ AND FIBER RESCUE™
SAVE 40% OFF RETAIL PRICE!
---
Restructuring Pre-Wash Conditioner
This deeply intensive, pre-shampoo, rinse-out conditioner dramatically improves hair elasticity and rescues damaged tresses leaving each strand looking smoother, shinier, stronger, more beautiful.
Restructuring Shampoo
Restructuring Shampoo undoes and prevents breakage, restores strength and beauty to over-stressed, over-processed hair of all textures. Damaged hair is left stronger, softer, more manageable and full of moisture.
Hair Transformation Masque
An intensive, ultra-rich, creamy, deep conditioning treatment masque that nurtures the scalp as it transforms the tresses. State of the art restructuring ingredients dramatically improve hair elasticity and rescue damaged hair from the inside out.
Inner Force Restructuring Serum
This daily, dual chamber serum (lotion serum + gel serum) delivers deep into the cortex. By penetrating deep into the cuticle, this innovative, high intensity treatment serum moisturizes and nurtures the hair and scalp as it transforms the tresses with key ingredients, REJUVENIQE S™ AND FIBER RESCUE™.
BONUS: Exclusive MONAT Train Case Included.
Market Partners: $96 USD / $127 CAD
VIPs: $116 USD / $155 CAD
Offer Begins: Sunday, September 9th 12:00 PM EDT
Offer Expires: Tuesday, September 11th 11:59 PM EDT
Orders Will Start To Ship The Week of September 24th, 2018
See you there soon.